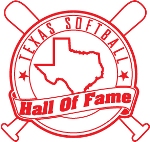 TEXAS SOFTBALL HALL OF FAME MISSION STATEMENT and your mission if you choose to accept it, is to lead softball events that promote sportsmanship,
to protect the integrity of the game, to provide a caring atmosphere, to enhance the well-being of all people of good will who participate, and to honor commitment to our the softball community.
"This is how the heartbeat of Texas softball makes an impact and a positive difference." Ralph Hall

"All great players make errors and so do All great umpires!" Ralph Hall, Jr. 5-23-13

Congratulations to Ralph Hall, the March 2019 reciepient of the "Blues Across America" award from Team USA. Ralph is the first umpire in the History of Houston softball to achieve this honor.

Ralph says, "TGBTG"
"It's not how each umpire performs, but how well do we umpires work together." Ralph Hall, Jr. 2-8-2017
"When the margin of error is small, don't bame others. You are better than that!" Ralph Hall, Jr. 10-7-2016
Umpiring with respect in your heart - good
Umpiring with integrity in your mind - great
Umpiring with love in your heart, mind, and soul - priceless, priceless, priceless
Ralph Hall, Jr. 8-7-2016
Umpiring a good game for good players- good
Umpiring an imperfect game for imperfect players- great
Umpiring a game for the worst behaving players in your umpire history and having the courage to umpire again - priceless.
Ralph Hall, Jr. 7-15-14
"Some softball umpires brings happiness wherever they go and others bring happiness whenever they go." Ralph Hall 5-29-13 Choose this day which one you will be and my thanks to John Maxwell for helping me think of this.
"Knowledge, perspective, and skills are all worthless, if you don't actually have the umpire certification and get paid to be on the fields." Ralph Hall 12-7-2012
Many Houston area UMPIRES have provided HONORABLE service for the TEXAS SOFTBALL HALL OF FAME community.

SOME UMPIRES HAVE SERVED IN THE:

OR IN MORE THAN ONE OF THESE ASSOCIATIONS.

"The difference between an umpire who controls the game and an umpire who is controlled by the players is not the calls he makes, but the authentic calling he has to be and to become a professional." Ralph Hall 10-13-07

"Illness and fatigue can end a softball players career. It may mean that the umpires are sick and tired of him." 2-7-2017

---

"Umpire history is made every time we step on to a field. If we record it now, others will appreciate it in the future." Ralph Hall

More than 178 - UMPIRES have provided HONORABLE service for the TEXAS SOFTBALL HALL OF FAME community.

BART ADAMS, JESSIE ADKINS, KEN AITKEN, RALPH ALBRIGHT, AL ALMANZO, SEAN ARCHAMBAULT, BILL ASHER, JERRY BARTA, TOM BARTA, ERIC BEARD, WALTER BELL, "J.B." JUAN BERMEA, JAMES BIALAS, RANDY BLACKMON, MATT BOWSER, JIM BRADY, DAVE BRAZEL, BILL BRAZIEL, CRAIG BROSIUS, *GONZALO BUENTELLO, MIKE BYERLY, DAVE CALHOUN, ALAN CAMPBELL, JAMES CARPENTER, CORKY CARTER, MIKE CASTAR, CARLOS "ROCKY" CASTILLO, ALAN COLLIER, GENE COLLINS, JEFF COLVIN, DAVID COTTEN, MONTE CUBA, IAN DANIELS, JIMMY DAVENPORT, HENRY DELEON, KERRY DESPAUX, DON DORNEY, BRIAN DOWNER, JAY DUNCAN, LOWELL EASTERWOOD, DARIN EBERLY, SHARON EMERSON, RICHARD FAGERT, DENNIS FASKE, TOM FLETCHER, JAY FOSTER, MIKE FRANZE, CARLOS FRANCO, JAMES GARFIELD, WAYNE GARRETT, JACK GEHRKE, BUTCH GIBBS, LOUIS GOMEZ, TIM GOOCH, MICHAEL GRIFFIN, LES GUEST, BILL HALE, DONA HALL, RALPH HALL, CURTIS HARRIS, TONY HATCHETT, *BOB HATTER, ROY HAWKINS, ELLIOTT HENSON, LARRY HICKS, HOWARD HILL, RENE HINAJOSA, GLENN HOLMES, SAM HOPWOOD, MARK HUDMAN, AL JACK, BRUCE JETT, *KEN JOHN, FRED JOHNSON, CHESTER "POFF" JOHNSON, OSCAR JOHNSON, PHIL JOHNSON, JEFF JONES, JERRY JONES, FRANK KATZMAN, MURPHY KELLUM, TOBY KERNON, DON KOENIG, RICHARD KOENIG, JAMES KUCHERKA, JOHN LAKE, RUSTY LANDRY, PHIL LANGFORD, *RED LANTZ, PAUL LAPIER, BOB LESTER, CRAIG LEWIS, AARON LOMAX, BEN MAHALIC, MARK MALIHESKI, ALAN MARTIN, *JIM MARTIN, JOHN MARTIN, SCOTT MARTIN, HARRY MASON, GUY MCDONALD, JIM MCLANE, PHILLIP MCNEIL, JOE MENDEZ, JOHN MERRIWEATHER, BOYD METZ, SHERRI MILLER, DAVE MINOR, MIKE MONTALBANO, JODI MOORE, *LESTER MORGAN, STEVE MORRIS, STEVE MORTON, BRIAN MOUNT, JIM NELSON, TED NELSON, DANNY NICHOLS, LONNIE O'HAVER, JOE OLIVERAZ, GENE ORTIZ, ROQUE ORTEGA, JOHN OSBORN, DANNY PARIS, JOSH PARISH, MANUEL PENA, PAT PEREZ, DREW PERKINS, ROGER PIPKENS, J.R. POGUE, TOMMY PREMEAUX, JAMES PRICE, TIM RAMSEY, TOM RED, RICK REYES, ANTHONY ROMANO, ELLIOTT RUBEN, MIKE RYCKLICK, CHARLIE SANDT, JIMMY SANTILLIAN, JOHNNY SANTILIAN, MARK SARTAIN, WILLIE SAULSBURY, JIM SCHULIN, TIM SCONYERS, GLENN SMITH, J.P. SMITH, RAY SNIEDER, MATT SNYDER, JOE SOLOMON, MINNIE SOSA, FRANK SPAGNOLA, LINDA SPAGNOLA, JOE STOCK, TOM STRAGLE, NEIL SUCHART. CHUCK TAYLOR, JOE TAAYLOR, ICHARD TESCH, PITTY TORRANCE, LARRY VALERIAN, STEVE VAN BUREN, BRUCE WALDING, ERNEST WALKER, STEVE WALLACE, CHAD WATASSEK, JIMMY WHITE, DAN WILLIAMS, DAN WILSON, *LARRY WINSOR, WILLIE WINTERS, BENNIE YBARRA, MYRON YODER, STAN ZINN.

"These umpires are really good." MLB Baseball star Michael Young 7-15-14

1982-1989 UMPIRES OF THE DECADE - STEVE MORRIS & RALPH HALL

1990-1999 UMPIRES OF THE DECADE - JIM SCHULIN & RALPH HALL

2000-2009 UMPIRES OF THE DECADE - KEN AITKEN & RALPH HALL
2010-2019 UMPIRES OF THE DECADE - WAYNE GARRETT & RALPH HALL

2000 UMPIRE OF THE YEAR - JERRY BARTA

2001 UMPIRE OF THE YEAR - RALPH HALL

2002 UMPIRE OF THE YEAR - AL MARTIN

2002 ROOKIE UMPIRE OF THE YEAR - JACK GEHRKE

2003 UMPIRE OF THE YEAR - DARIN EBERLY

2004 UMPIRE OF THE YEAR - KEN AITKEN

2004 ROOKIE UMPIRE OF THE YEAR - DICK FAGERT

2005 UMPIRE OF THE YEAR - MURPHY KELLUM

2006 UMPIRES OF THE YEAR - JACK GEHRKE & LES GUEST

2006 ROOKIE UMPIRE OF THE YEAR - JOHN OSBORN

2007 UMPIRE OF THE YEAR - RANDY BLACKMON
2007 ROOKIE UMPIRE OF THE YEAR - MINNIE SOSA
2008 UMPIRE OF THE YEAR - CARLOS FRANCO
2009 UMPIRE OF THE YEAR - KEN AITKEN
2009 ROOKIE UMPIRE OF THE YEAR - PHILLIP McNEIL
2010 UMPIRE OF THE YEAR - LES GUEST
2011 UMPIRE OF THE YEAR - CARLOS FRANCO
2011 ROOKIE UMPIRE OF THE YEAR - ERIC BEARD
2011 COMEBACK UMPIRE OF THE YEAR - WAYNE GARRETT
2012 UMPIRE OF THE YEAR - RALPH HALL
2012 NEWCOMER OF THE YEAR - ELLIOT HENSON
2013 UMPIRE OF THE YEAR - CARLOS FRANCO
2013 NEWCOMER OF THE YEAR - CARLOS "ROCKY" CASTILLO
2014 UMPIRE OF THE YEAR - RALPH HALL
2014 COMEBACK UMPIRE OF THE YEAR - MARK SARTAIN
2015 UMPIRE OF THE YEAR - KEN AITKEN
2016 UMPIRE OF THE YEAR - WAYNE GARRETT
2017 UMPIRE OF THE YEAR - LOU GOMEZ
2018 UMPIRE OF THE YEAR - RALPH HALL
2019 - UMPIRE OF THE YEAR -
2019 NEWCOMER OF THE YEAR -
2010-2019 UMPIRES OF THE DECADE - WAYNE GARRETT & RALPH HALL

2020 - NO UMPIRE OF THE YEAR

2021- Wayne Garrett

2022- Wayne Garrett

WHEN AN UMPIRE MISSES A CALL, HE DESERVES TO BE TREATED WITH COURTESY NOT WITH EMOTIONAL ABUSE. IF THERE WAS SUCH A PERSON AS A PERFECT UMPIRE, HOW WOULD AN IMPERFECT PLAYER RECOGNIZE HIM ANYWAY? THE PLAYER WOULD ONLY BE ABLE TO SEE HIS OWN IMPERFECTIONS. MAYBE THAT PLAYER SHOULD TAKE THE INFIELD OF SAND OUT OF HIS OWN EYES BEFORE TRYING TO REMOVE THE SPECK OF SAND FROM THE UMPIRE'S EYE. DOES THAT SOUND FAMILIAR?" Ralph Hall

"Why let the loudest voice, the more annoying personality, or the most offensive character take control, when the most powerful name at any field is already present?" Ralph Hall

The Texas Softball Hall Of Fame is built slowly over a lifetime. It is the sum total of every dream come true, every right decision, every promise kept, every positive thought, every timely word, and every heartfelt prayer. It is energized by the generator of honorable work. It glistens with the twins of humility and generosity. It is a precious place constructed with the bricks of tournaments and the mortar of leagues. It is a lifestyle of courage, faith, and skill which grows the seeds of greatness in the soil of sportsmanship. It is a place in the heart of service, where God looks when He smiles.

LET'S PLAY BALL! Ralph Hall 11-26-05

"The difference between an umpire who controls the game and an umpire who is controlled by the players is not the calls he makes, but the authentic calling he has to be and to become a professional." Ralph Hall 10-13-07

---

From humble beginnings to the biggest events has not been easy. However, it continues to be a genuine blessing, a miraculous journey, and an incredible honor. Each person who participates with sportsmanship and character is a part of it. I can not fully express my appreciation for those who share the vision with me, who step up to the plate of courage, who serve others unselfishly, and who connect with The Texas Softball Hall Of Fame. They are living testaments revealing the Champion of Life. Ralph Hall 7-16-2014

BRIAN MOUNT, ROGER CLEMENS, RALPH HALL, MIKE BYERLEY 7-15-2014

LES GUEST - RALPH HALL - WAYNE GARRETT

LES GUEST, JOHN OSBORN, DARIN EBERLY, RALPH HALL

JACK GEHRKE, MURPHY KELLUM

Brian Downer, Ralph Hall, Minnie Soza, Ken Aitken

RICHARD FAGERT , CARLOS FRANCO

TED NELSON

YES, WE UMPIRED !

---

Ralph's 10 Rules for Umpires "WE WORK; YOU PLAY." Ralph Hall

| | |
| --- | --- |
| 1 | Focus on the ball in play. |
| 2 | Be professional by keeping personal bias out of your work. |
| 3 | Do not insist on having the last word. |
| 4 | Never verbally threaten or use body language to threaten any player or patron of the game. |
| 5 | Listen to who you should listen to, the Commissioner, the Crew Chief, or the League Director. Remember this when listening to others - their opinions do not have equal merit. |
| 6 | It's your temper, so please keep it. Umpire decisions made in anger rarely help anyone or any game. |
| 7 | Do not use profanity, sarcasm, ridicule, or any form of verbal abuse. |
| 8 | Do professional work. You are a role model both on and off the field. |
| 9 | Honestly evaluate and analyze your work. Most unnecessary umpire stress comes from that self-defeating habit called, lack of effort. |
| 10 | Treat other umpires charitably. Gentleness toward co-workers is not a weakness, but a strength. |
"If you think about it, talk about it, and write about it, YOU CARE about it." Ralph Hall, Jr. 9-19-2016

<![if !vml]><![endif]>

---

Pictures, short biographies, and URL addresses may also be submitted to this site for future publication and links.


"Knowledge, perspective, and skills are all worthless, if you don't actually have the umpire certification and get paid to be on the fields." Ralph Hall 12-7-2012