*

Decisions on weather and field conditions will be monitored on our weather information telephone line: 281-342-0789-0-6. If in doubt, call before coming to the ballpark.

"Against the wind, the rain, and the hard times, a friend stands with you and will not walk away." Ralph Hall

Click HERE to see THE 1999-1989 & 2004 Texas Softball Hall Of Fame World Series Champions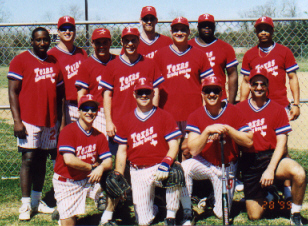 Texas Marketing Group
A.M. Round Robin Champions March 26, 2000

*See Ground Rules and Announcements page for more details

"A Tournament or a League is not just a CONSUMERISTIC EVENT. Each one has been, is, and will be a SERVICE OPPORTUNITY."
RALPH HALL
If you win 4 games, we will call you Champions.
If you win 40 Tournaments or Leagues, we will call you a Dynasty.
If you have created over 1,427 events, awarded more than 18,000 Champions, and directed over
1,000,000 participants, we will call you Ralph Hall.
"The hard drive historian of the past, the passionate, articulate journalist of the present, and the contemporary, purposeful spirit of the future are the same thing, the attitude."
Ralph Hall

"With vision, courage, and skill we plan the games. With cooperation, commitment, and caring we lead the people." RALPH HALL
The Bucks 2-27-2000

2010 to 1991 TOURNAMENT CHAMPIONS Click Here

"The tasks ahead of us are never as great as the Power within us." Ralph Hall
Tournament play in the Round Robin format may be held on some SATURDAYS.
2011 Schedule
April 23, 2011
June 24, 2011

Call Ralph 281-342-0789-0-1
Some SATURDAY Texas Softball Hall of Fame TOURNAMENTS or Round Robins in 2010 may be played.

FOR 2011 LEAGUE SCHEDULES CLICK HERE
CALL RALPH 281-342-0789-0-1

"To play in a Sunday League, $395. To join a Tuesday or Friday League, $355. To build positive relationships with the Texas Softball Hall Of Fame community, priceless." Ralph Hall

"A MAN CAN PLAY A BETTER GAME WHEN HE MEETS A DEEPER, TRUER SELF THAT KNOWS ITS POTENTIAL AND ITS LIMITS." RALPH HALL

"WE DO NOT INVITE THE GREAT TEAMS TO HUMBLE THE REST. WE INVITE THE HUMBLE TO BECOME GREAT." RALPH HALL

"If you respect our history and if you care about our presence, you may wear the trophy of honor in our future." Ralph Hall

The Texas Softball Hall Of Fame is built slowly over a lifetime. It is the sum total of every dream come true, every right decision, every promise kept, every positive thought, every timely word, and every heartfelt prayer. It is energized by the generator of honorable work. It glistens with the twins of humility and generosity. It is a precious place constructed with the bricks of tournaments and the mortar of leagues. It is a lifestyle of courage, faith, and skill which grows the seeds of greatness in the soil of sportsmanship. It is a place in the heart of service, where God looks when He smiles.
LET'S PLAY BALL! Ralph Hall 11-29-05

For additional information read the Ground Rules and Announcements page.

"The base path of character is not the base path of compromise."

Ralph Hall 8-30-07

"WE WORKED; YOU PLAYED."